Accommodation in Sierra Nevada
There are many websites offering hotels in Sierra Nevada, here we recommend one of them and we also give you a description of the booking process:
Ski Resort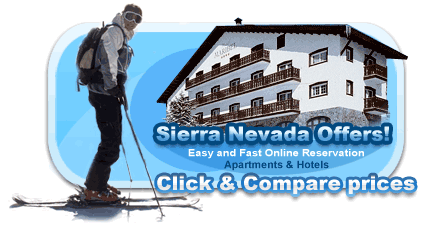 Malagaholidays.com is the website we recommend for getting an hotel or apartment in Sierra Nevada, and below you can find out the reasons why we have chosen it:
In Malagaholidays.com you have the option to talk with a travel operator by phone in your own language. She would recommend you depending on your needs and/or in what you are looking for.
An example for this could be a person looking for a quiet and cheap hotel in Sierra Nevada, with a limited budget but looking also for the comfort of quality transportation to the hotel using an airport transfer or by renting a car. Malagaholidays tour operator, would take all those premises and based on that would choose the best option for the client...and talking the true, this can´t be done by an automated system yet.
Prices are very competitive for apartments in Sierra Nevada, hotels and ski resorts. We can get our accommodation in Sierra Nevada for a low price, finding luxury and cheap hotels in Sierra Nevada is not that difficult now.
Friendly support and instant payment options make of Malagaholidays an easy and pleasant experience in booking online, from car rental services, to hotels, apartments and transfers.
Accommodation areas in Sierra Nevada
Sierra Nevada hotel accommodation can be subdivided in three areas or zones, as following:
Lower Zone: Most Hotels, shopping, Cafes and Bars, Borreguiles and Al-Andalus Gondolas, Parador Chairlift base, Mirlo Blanco recreation area, Ice rink, underground car park.
Mid Zone: Most self catering accommodation, GMH Monachil Hotel, main nightlife, minimarkets, Parador Chairlift intermediary stop, Access to the "Maribel" Piste.
Top Zone: Primarily self catering accommodation, Hotel Vincci Rumaykiyya (5 stars hotel), Access to the Virgen de las Nieves Ski lift, Parador Chairlift Top station, Hoya de la Mora sledging area.
Furthermore there are as well Hotels close by the ski resort, before reaching Pradollano, meaning a quieter surrounding and lower cost. Many of these Hotels stay open throughout the year.
Besides the popular ski resort of Sierra Nevada (Pradollano), there are many leisure time possibilities in the area. There is a less known skiing station in Puerto de la Ragua and during the rest of the year can be enjoyed many fantastic hiking routes through the National Park.
Hotels reviews
Below we review some of the most popular Sierra Nevada hotels. We may be looking for cheap hotels or luxury hotels, but in first place, we expect at last a comfortable accommodation.
Hotel Mont Blanc
The Hotel Mont Blanc in Prado Llano is located close to the slopes and also it is just 37 km from the city centre. So if you wish to enjoy the cultural city of Granada as well as the slopes we recommend checking this hotel availability.
Read more or make an online reservation for
Hotel Mont Blanc Sierra Nevada.
Hotel El Ciervo
This hotel/hostel is not located close to the slopes, however the price for this hotel is cheap. This hotel is recommended for young people or families looking to enjoy Sierra Nevada and not spending much money in accommodation.
Read more or make an online reservation for
El Ciervo Hotel.
Hotel Ziryab
The hotel is in a great location just a few meters from the main resort plaza and the cable car. You can reach the main ski lift / cablecar in just 5 minutes. If you are looking for a ski lodge atmosphere, then this is your hotel. Customers gave many appraisals to Hotel Ziryab so we think you will enjoy your holidays in Sierra Nevada.
Read more or make an online reservation for
Ziryab Hotel .
Melia Sol y Nieve Hotel
The rooms were refurbished in 2007, it is located just at 150 metres from the lifts. There are LCD TVs in each room and paid parking for your car. Melia Sol y Nieve hotel is a great option for skiing in Sierra Nevada for its location.
Read more or make an online reservation for
Melia Sol y Nieve Hotel .
Hotel Vincci Rumaykiyya
This is the only five stars Hotel in Sierra Nevada and one of the highest hotels in Europe. The hotel Vincci Seleccion Rumaykiyya is a two floor building in traditional alpine style, renovated in 2002 with a total of 57 rooms of which 7 are exquisitely decorated suites.
Each of the spacious rooms is equipped with central heating and air-condition, complete bath with hairdryer and toilet articles, bath tub with hydro-massage, direct phone, satellite TV, Minibar, safe, writing desk and WIFI.
The Hotel offers a shuttle service to the Resort of Prado Llano about 500 metres away, with numerous shops, bars, restaurants and discotheques.
The meals are Buffet or a la carte in the Restaurant "La Arqueria". Clients can request special dishes and dietary foods. Exclusive buffet for children.
The Spa area offers Sauna, Jacuzzi, Turkish bath, massage, solarium and beauty treatments.
The Hotel Vincci Rumaykiyya is accessible for physically handicapped clients.
Other Hotel services include Piano-Bar, children´s club and park, Babysitter, 24-hour room service, laundry, medical service, shuttle service to Prado Llano, car rental.
Clients can book the following facilities and services: Ski and snowboard classes, Horse routes and excursions, snowmobiles, snowshoe tours, Spa, Visits to the Alhambra.
Read more or make an online reservation for
Vincci Rumaykiyya Hotel .
As final words, our recommendation is to check Malagaholidays.com and try their service for Sierra Nevada hotels. You would not loose but get many benefits, so give it a try and let us know your experiences, we always hope to be of help in your holidays on the Costa del Sol.
Sierra Nevada apartments
Many tourists prefer Sierra Nevada apartments instead hotels as a more personal accommodation; Sierra Nevada apartments may be the solution for those people looking for the comfort of a big saloon, a kitchen and a few bedroms for more than 2 people.
Below we review some of the most popular apartments locations:
Pradollano
Pradollano is the "capital" of Sierra Nevada, so the apartments there can´t be located in a better place. Close to the ski lifts and with great views of the Sierra Nevada in Granada.
Monachil
Located 8km from Granada city centre, it is one of the most complex ski resorts in Sierra Nevada. Explore the beautiful views and mountains of Sierra Nevada from Monachil.
Get more information or make an online reservation for apartments in Monachil.
Güejar
There are shops, restaurants and amenities within this location. It is 15 to 20 minutes close to Granada. Apartments in Güejar are ideal base for summer activities/skiing in winter (25 to 30 mins to ski lifts).
If you are looking for online availability of apartments in Sierra Nevada, please check out Malagaholidays.com website for apartments deals.
Luxury apartments
Economic apartments
Monachil apartments
Long term apartments
Don't forget to share!