Nightclubs and Pubs in Nerja
Nerja is the most eastern town on the Costa del Sol in the andalusian province Málaga and 53 Kilometers (33 miles) away from Málaga city.

The nightlife in Nerja is rather quiet in comparison to her neighbor cities along the Costa del Sol, as for instance Torremolinos or Marbella; this is due to the attractiveness of the Tourist resort for Families and elderly people, who enjoy their evenings with dining or having a drink in one of the many Restaurants you can find along the beach promenade. Although – in comparison to the wild party life in Torremolinos and Marbella!
Nerja nightlife in summer
During the summer months we can find as well in Nerja a lively Nightlife with Music cafés, Bars and Clubs that stay open until the early morning hours. Generally, the actual nightlife in Nerja, referred to Clubs and Discotheques, does not start before 12 o´clock at night. Therefore you might start your tour in the evening with a visit through the numerous Tapas Bars. Some of the best Tapas Bars are located in the area of the old city and the Balcón de Europa, as for instance the Bar La Chispa with the reputation of serving a wide range of scrumptious tapas. The local specialties comprise many seafood dishes and there are a number of excellent Fish restaurants in Nerja.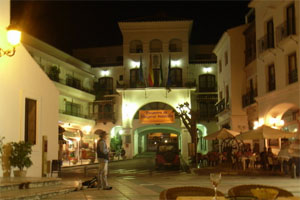 So strengthened you now can proceed to one of the many night bars and Clubs.
A great part of Nerja´s nightlife is centered around the square Tutti Frutti and the Street Antonio Millon, with a good and varied offer of Bars in Nerja with Life Music, Flamenco Shows, Irish Pubs, Clubs and nightclubs in Nerja. These places start getting busy from about 12 o´clock onwards and are opened during the main season until 4 o´clock.
If your holidays should coincide with one of Nerja's mayor festivities then you can together with the locals dive into music, dance and Street Parades. One of the mayor Fairs takes place in October, during 4 days of "Feria", with fairground rides and plenty of life in the streets. The people of Nerja love to celebrate and party, especially during this annual Nerja Festival.
Apart from the nightlife as such, Nerja has to offer an ample range of activities for every liking; in the area there are festivals throughout the year, such as ballet, Flamenco, Theatre, Music or Classical Dance.
List of recommended clubs and pubs
There is a map with all the locations and photos below the list. Bookmark this page or the map for keeping an updated list of the best places to go at night in Puerto Banus.
* Red means it is recorded closed online, there might be a new one.
* Navy Blue is featured, a popular place with many positive reviews.
* Green means safe, not many nor all positive, but good average.
* Light Blue means it has reviews, but not many.
* Grey means a place without reviews, you can be the first.
* Orange means a warning, the place has only bad reviews or many people complain about the same issue.
* List updated in June 2018.
Disco and clubs
Pubs and cocktail bars
Irish pubs
Map with list of recommended clubs and pubs in Nerja
Don't forget to share!