Malaga nightclubs
Malaga nightlife, and the summers at its beaches, are famous in all over the world, you can find at Malaga some beach pubs which opens during the whole day,at night there are people dancing on the sand, with music, drinks and all a night pub can offer. By the day a bar where drink or maybe eat; but this happen not only during the summer-season neither only at the beach, all the year through you will find an animated nightlife.
Málaga city center offers you the chance to stroll its inner-city streets full of people drinking and walking. You can find everything from traditional tapas bars to moderns nightclubs. Malagans use to buy their drinks in the supermarkets and have them at night at Merced Square (city center), before going to the clubs.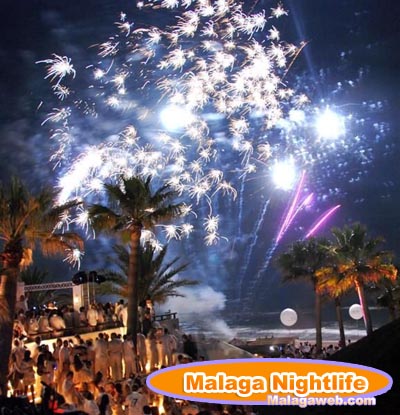 Malaga center is quite moving, modern and classical merge in Marques de Larios, Plaza de la Constitution and Calle de Granada, which form the main shopping and nightlife area. The streets nearby are a maze filled with tapas bars and wineries, in addition to stores where you can buy wine included the sweet wine of the area. The weekend can be a lot of young people who go to bars and pubs to enjoy the Malaga nightlife. Malagan night people do not usually go out before midnight, sometimes not return home until sunrise, and exploit something for breakfast on the way. This contrast is due to the type of life that takes heart in Malaga, on the one hand, the busy port and industry, and secondly, Malaga is one of the most important tourist destinations in the world.

Malaga nightlife takes place in several locations mostly affordable and reasonable prices compared to those of Puerto Banus, Puerto Marina and other places of the coast. The price of a drink in Malaga depending on the venue chosen can range from Euro 3.50 to Euro 6 in the most exclusive locations.
Below we analyze the main places where you can experience Malaga nighclubs:
Plaza Uncibay
Here is where most of the nightlife, including around the Cathedral of Malaga and the streets of the square.Pubs and bars are not side by side each other so you will have to walk if want to move from one pub to another, they are spreaded throughout different areas but not too far away from each other.

La Malagueta
If you are looking for a more current and modern ambience, fashion local for young people. There are many bars, pubs and clubs which include the most exclusive locals in Malaga, at the same time you can find restaurants and bars for a typical dinner in the purest Andalusian style.
El Palo y Pedregalejo
This is the most cosmopolitan area by the presence of a large number of foreigners attending Spanish schools located in the area. There are a wide variety of sites to have fun , as can be areas of tapas bars in the fashionable beach and sites to enjoy the night of Málaga.
This is a list of some of the nightclubs in Malaga- Costa del Sol, where you can see the name of the nightclub, address, city and a description of the nightclubs in Malaga - Costa del Sol. Be ready to enjoy nightlife in Malaga.
There is a map with all the locations and photos below the list. Bookmark this page or the map for keeping an updated list of the best places to go at night in Malaga.
* Red means it is recorded closed online, there might be a new one.
* Navy Blue is featured, a popular place with many positive reviews.
* Green means safe, not many nor all positive, but good average.
* Light Blue means it has reviews, but not many.
* Grey means a place without reviews or not yet updated.
* Orange means a warning, the place has only bad reviews or many people complain about the same issue.
* List updated in June 2018.
Disco clubs
Live music and concerts
Pubs and lounge bars in Malaga
Irish Pubs
Map with list of clubs and pubs in Malaga
Don't forget to share!