One day trip to Gibraltar
Gibraltar is a small location in Andalusia where you can have the feeling of visiting England. In Gibraltar we can enjoy a day of shopping, dolphins, Gibraltar city or the rock tunnels. There are many things to enjoy in this city, do not hesitate to come and spend a day in Gibraltar.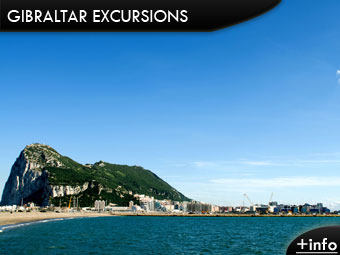 Getting to Gibraltar from Malaga is easy if we have our own car, in about 1 ½ hours, we recommend hire a car at Malaga airport if you have a driver's license.
Organized trip to Gibraltar
The price of the excursion to Gibraltar ranges between 18 € and 45 €, depending on the excursion we choose; the duration is one day, with regular departures from Monday to Saturday throughout the year except bank holidays.
There are plenty of excursions to Gibraltar:
Shopping in Gibraltar
One day visit to Gibraltar
Dolphins cruise in Gibraltar
Guided tour of the tunnels of Gibraltar
What is included in the tour?
Each tour includes everything you need depending on the chosen trip to fully enjoy the visit and experience.
We recommend for this tour in Gibraltar
If you plan to go during the winter do not forget to bring warm clothing as it is very cold in Gibraltar.
During the summer, wear light clothing and a sun hat. The use of comfortable footwear and clothing is always recommended.
Where can I book an excursion or tour to Gibraltar?
We recommend to book your tour or excursion to Gibraltar in advance to avoid availability problems from the websites we recommend:
We recommend to book the guided tour to Gibraltar at Malagaholidays.com
Unguided visit to Gibraltar
If you want to visit Gibraltar, but do not want a guided tour, there are other options:
Malaga to Gibraltar: Here you will find information on how to get to Gibraltar from Malaga and the different options.
Car rental in Malaga: Very good option if you have a driver's license, so you can enjoy all the way and make the stops and breaks as and when needed.
Transfer Malaga airport to Gibraltar: For you, your family or a group of people. Check prices and different options from Malaga airport.
Don't forget to share!