Seville airport
San Pablo Airport is located ten kilometres northwest of Seville. Although Seville is the capital of Andalucia, almost 80% of air traffic is domestic. The terminal was redesigned on the occasion of EXPO 92, with an emphasis on local culture, a mixture of Arabic and Spanish influences, with components of the Mosque, Palace and orange trees. It is a three-storey modern airport with two baggage claim areas.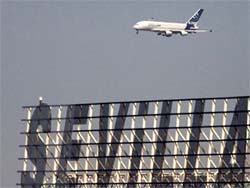 Seville San Pablo Airport is located on Highway A-4, heading to Cordoba and Madrid. From Seville you have a quick and easy access to Jerez (less than one hour), Malaga (about 2 hours) and Faro in Portugal (about 2 ½ hours).
Seville's city center is easily accessible via taxi and urban bus. The journey by taxi is about 15 minutes and the price is around 20 Euros. Buses connect the airport with Sevilla city centre depart every 30 minutes between 6:15 am and 11 pm. The trip takes 20 to 30 minutes and tickets cost 2.30 €. There are also several car rental companies at the airport.
Seville Airport has a medium size; therefore the supply of stores is quite limited as due to the large number of domestic flights there are not many shops for tourists. Most shops are in the public area before billing. In the passenger area is situated an Aldeasa store that sells cigarettes, drinks, perfumes, etc. There are also three bars where you can eat something or have a coffee and a pharmacy on the first floor of the terminal.
Recently the number of international flights to Seville is increasing due to the low cost carrier Ryanair and British Airways which now also offers flights to the capital of Andalucia.
From Sevilla there are regular flights to domestic destinations as Arrecife, Bilbao, Barcelona, Gran Canaria, Fuerteventura, Madrid, Santiago de Compostela, Palma de Mallorca, Tenerife, Valencia and Vigo.
Regular international flights to Seville depart from Amsterdam, Brussels, Dusseldorf, Frankfurt, London Heathrow, Gatwick and Stanstead, Lisbon, Milan, Munich and Paris.
Seville airport arrival video
Seville airport Airlines

There are many companies offering low cost flights to Seville: Air Berlin, Air Europa, Air Nostrum, Brussels Airlines Easyjet, Iberia Monarch, Royal Air Maroc, Ryanair, Spanair, TAP Portugal, Transavia, Vueling, XL Airways France
Distances from Seville airport
Seville airport to Seville city centre: 12 km
Seville airport to Huelva: 105 km
Seville airport to Cordoba: 132 km
Seville airport to Cadiz: 133 km
Seville airport to Malaga: 220 km
Seville airport to Granada: 261 km
Seville airport – Faro, Portugal: 211 km
Sevilla Airport Website
Seville airport weather
This is a report for Sevilla / San Pablo, Spain. The report was made 9 minutes ago, at 10:00 UTC. The wind was blowing at a speed of 3.6 meters per second (8.1 miles per hour) from northeast (050°), varying between north/northeast (020°) and east (080°). The temperature was 10 °C (50 °F), with a dew-point at 3 °C (37 °F). The atmospheric pressure was 1032 hPa (30.47 inHg). The relative humidity was 61.7%. There were no clouds below 1500 meter (5000 feet) and no cumulonimbus clouds. The overall visibility was greater than 10 kilometers (6.2 miles).
tourist tips
Those who require a transfer to Seville airport from Malaga, should visit our airport transfers section for the best websites and prices.
Don't forget to share!