In order to celebrate and promote the International Flamenco Festival in Malaga, the aim is to break a Guinness record, the one of a crowd dancing flamenco at the same time.
For the event to be a success, more than 4000 people will have to participate; Madrid currently holds the record with 3,665 people dancing flamenco.
Remember that this massive event will take place in the centre of Malaga on Sunday 1 July.
What is a flamenco flashmob?
It is an action by which a group of people perform an unusual activity, in this case flamenco dancing, and then quickly disperse.
Although in the beginning they were meaningless shows, they have ended up being used for advertising purposes with massive participation. On this occasion a flamenco flashmob will be held with the aim of breaking the current world record and promoting this art.
Now that you know more about what a flashmob is, would you like to know a little more about flamenco and its origins? The linked blog post is about Flamenco, Verdiales and the origins of Andalusian folklore.
When and where does it take place?
The organization of the event is from 10 am and the flashmob will start at 12. If you want to participate you can have a look at the explanatory video where they show the choreography to follow during the dance  with easy tutorials to follow.
This activity will last about half an hour and there will be people from different countries, including Mexico, the invited country to this festival, and Canada.
It will take place in the very centre of Malaga, Calle Larios.
Video choreography for flamenco flashmob in Malaga
What about the International Flamenco Festival?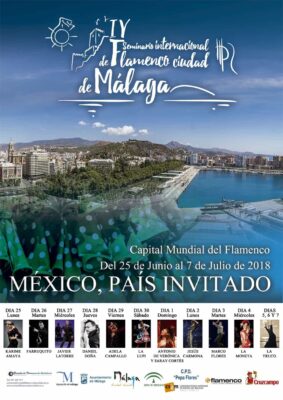 This year Malaga is once again the Flamenco world capital from June 25th to July 7th. During the City of Malaga International Seminar, the aim is to promote the development of flamenco in its different forms.
There will be topics on flamenco singing, flamenco dance, percussion, guitar and other elements related to the world of flamenco.
The learning of this dance will be promoted so that it is known not only as a healthy exercise but also as a cultural identity of a region.
There will be daily performances with representative figures from the flamenco world:
Monday 25: Karime Amaya.
Tuesday 26: Farruquito.
Wednesday 27: Javier Latorre.
Thursday 28: Daniel Doña.
Friday 29: Adela Campallo.
Saturday 30: La Lupi.
Sunday 1: Antonio de Verónica y Saray Cortés + Record Guiness flamenco.
Monday 2: Jesús Carmona.
Tuesday 3: Marco Flores.
Wednesday 4: La Moneta.
Days 5,6 and 7: La Truco.
If you like flamenco you can't miss the opportunity to participate in this festival taking place at the end of June and beginning of July.
Comparte este artículo: