Bicycle Day in Malaga is usually by the end of September. This day is the result of the European Mobility Week, a week of activities to promote sustainable mobility.
In 2018 " The Day of the Bicycle " will be Sunday September 23. As every year both adults and young people will be able to participate free of charge in any of the two different routes, one of 12 km and the other of 5.5 km.
 Spain has led the participation every year, 18.5% of the participating cities have been Spanish.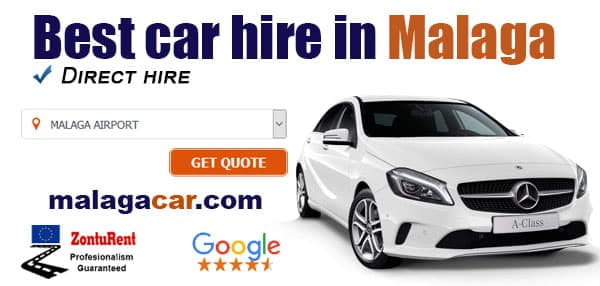 ';
European Mobility Week
The European Mobility Week is from 16 to 22 September. This week they promote the use of alternative means of transport to avoid the use of cars in cities.
Spain has led the participation every year, 18.5% of the participating cities have been Spanish. In 2018, it again topped the list with 292 participating cities, followed by Hungary with 239 and Austria with 159.
Among the municipalities that will participate this year are Estepona and Malaga. Each municipality adhering to this event will propose a week of activities. Optionally they can take permanent measures to promote efficient transport and celebrate the day without a car.
Official website in English: https://mobilityweek.eu/home/
Bike activities in Malaga
Malaga has been promoting the Day on Bike for the last few years; it is not a competition but a 12 km bike ride in which everyone is invited to take part. This ride begins at Paseo del Parque at 10am. (Map)
Those who go with children or want to do a shorter tour can do it in the Mini Bike Day. 5.5 kilometres of route starting at the Faculty of Law. (Map)
Registration is free and not required, but those who sign up will participate in sweepstakes where bikes and other prizes will be given away.
If you want to register, in previous events you could do so at the El Corte Ingles sports floor or at the Bahia Malaga Shopping Centre before the day of the activity. You can visit my other post about shopping malls in Malaga to find out where they are and their opening hours.
Itinerary
Although it can change, in previous events it started and ended at Paseo del Parque in front of the Town Hall.
The route includes places such as Plaza de la Marina, Alameda Principal, Plaza de la Cruz del Humilladero, Avenida Obispo Angel Herrera Oria and Puente de Tetúan.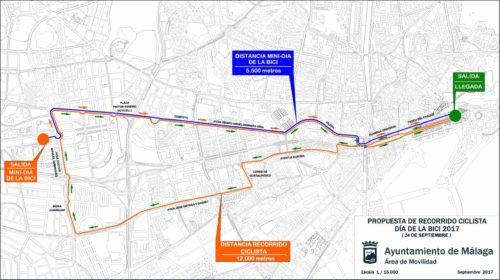 Finally and as my personal opinion, the end of September sounds like a great season to discover the city by bicycle. But if you are looking for other kind of activities you can check my post about adventure activities in Malaga.
Comparte este artículo: