The procession of the Three Kings is a mainly Spanish tradition. The first parade which is recorded took place in 1876 in Alicante and thanks to its success it was expanding rapidly to other cities. In 1917 took place the first Parade in Andalusia and today is a typical established tradition throughout the province.
---
Another new year comes, time flies! While in most European countries the sun gradually gives way to clouds, rain and the earliest snow, in Malaga the sun still shines brightly in a blue sky. Do you want to know how we celebrate New Year's Eve in Malaga and Spain?
---
Wondering about Christmas activities and attractions in December? I will be updating this list but there are already many things to do in Malaga. From visiting the typical Nativity Scenes to children´s fairs. If you are looking for special Christmas events I will suggest some.
---
This year the Christmas lights in Malaga will be switched on the 29th in November, will you miss it? The lighting decoration and switching date change every year, in past events they used up to 600.000 led lights in Larios street, the most centric and popular street in Malaga, nevertheless this city is one of the best places to enjoy the lighting in the world.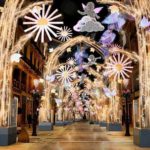 ---
On October 31 arrives the terrifying night of Halloween at our city. Do you have any plan? Malaga is ready and features events in which you can already register. If you have not yet decided what to do, we offer interesting activities for both adults and children. We hope you survive, we wouldn´t want to run out of readers..
---
If you like motorcycles, motorsports and entertainment you can't miss the International Motorcycle Rally in Torremolinos, Malaga. Find here all the information you need to attend this event: concert calendar and shows.
---
Everything you need to know about the Torremolinos Fair, events calendar. Concerts and activities that take place during the night Fair in the fairgrounds or during the day Fair.
---
The month of July, in addition to a rise in temperatures, brings us many activities that might be of your interest. There will be activities for all ages and to suit all tastes. I will list the most important events but I will expand the list throughout the month.
---
The next June 23, thousands of people of all ages will celebrate along the coast the shortest night of the year at the summer solstice known as the 'Night of San Juan' in Spain; also called St. John's bonfires or Midsummer's Eve. I will tell you activities for this special night and the most popular places for celebrating it in Malaga.
---
We share the experience of a blog reader who spent a weekend in Malaga at a very good price. Do you want to know everything she could do for only 25 euros? Don't miss our article and find out how cheap is to enjoy life!
---