Christmas is arriving in Malaga and - how could it be otherwise - Christmas markets are emerging in Malaga, ideal to go for a stroll enjoying the great atmosphere with the stalls,which each year are more elaborate, and the Christmas lighting in Malaga.
---
Wondering about Christmas activities and attractions in December? I will be updating this list but there are already many things to do in Malaga. From visiting the typical Nativity Scenes to children´s fairs. If you are looking for special Christmas events I will suggest some.
---
This year the Christmas lights in Malaga will be switched on the 29th in November, will you miss it? The lighting decoration and switching date change every year, in past events they used up to 600.000 led lights in Larios street, the most centric and popular street in Malaga, nevertheless this city is one of the best places to enjoy the lighting in the world.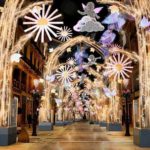 ---
The procession of the Three Kings is a mainly Spanish tradition. The first parade which is recorded took place in 1876 in Alicante and thanks to its success it was expanding rapidly to other cities. In 1917 took place the first Parade in Andalusia and today is a typical established tradition throughout the province.
---
Another new year comes, time flies! While in most European countries the sun gradually gives way to clouds, rain and the earliest snow, in Malaga the sun still shines brightly in a blue sky. Do you want to know how we celebrate New Year's Eve in Malaga and Spain?
---
Winter is coming...but do not worry, Malaga and the Costa del Sol are blessed with sunny days throughout the years and enjoyment is not limited exclusively to the summer months. Actually, many Tour operators and travel agencies offer very good price-value flights to Malaga Airport and Hotels in Malaga in the months between October and March. The same applies as well for the Malaga cruise port which is one of the principal scales in the winter routes of cruise ships through the Mediterranean Sea.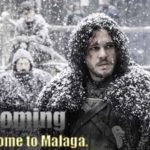 ---
Children and adults can enjoy a fun time on the ice, with a new ice rink installed in Andalusia Avenue, next to the entrance of the department store El Corte Ingles Malaga city, offering a new form of entertainment during the Christmas holidays.
---
A few days ago began autumn and now are appearing the chestnuts stalls in the streets of Malaga. Roasted chestnuts in Malaga are special for being a product "Made in Malaga" (from the Serrania de Ronda).
---
What should be taken into account when choosing the right accommodation in Malaga for New Year's Eve? First of all, of course, there must be the question of where you prefer to spend your holidays: Do you prefer an increasingly fashionable holiday in nature or do you prefer the people and the hustle and bustle and enjoy the culture of Malaga?
---