Category: Events
Events and activities in Malaga
The province of Malaga has events and activities that you can enjoy any day or weekend throughout the year.
We usually include organized events. If you like the outdoors you can take a look at our category on routes and excursions.
Let's see some of the most popular events in Malaga:
Activities this weekend and throughout the month
From organic markets in Malaga or flea markets the next weekend. Not forgetting popular fairs and festivities, concerts or live shows. Follow us to keep up to date and join interesting activities on Fridays, Saturdays and Sundays.
Concerts, festivals and shows
Throughout the year and especially during the summer and adjacent months, Malaga organizes a multitude of events and live shows that you can assist.
If you like music and beach you can't miss the Weekend Beach Festival in Torre del Mar, several days of music with numerous artists and even with a camping area. There are others like the Alamos Beach Festival that are also quite popular.
Every year there are  concerts in Sohail Castle of Fuengirola or its surroundings. It is a long-awaited event with world-class guest artists.
Fairs and popular festivals
Malaga is a province with a lot of culture, a past that has had a significant influence on the development of its villages. Throughout the year you will be able to enjoy popular fiestas in the towns of Málaga. It is advisable to know in advance which ones you could visit. A highly recommended event during the month of September is the Luna Mora festival in Guaro.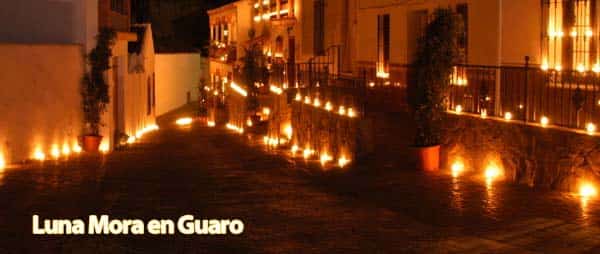 Other events that you can't miss could be Easter or the August Fair in Malaga, a fair with its own personality and in which you will not only have fun but where you can enjoy a rich local cuisine.
The Carnival in Malaga or Halloween are celebrated in a very special way. A multitude of events and activities for all audiences, and we will inform you about everything in our blog.
People's Fair in Fuengirola enjoys a high level of popularity every year. A place where you can not only get to know the culture and taste the local gastronomy, but also from many countries.
Lovers of sports and the beach have a new appointment this Saturday, June 2 at the 6th edition of the sporting event Iron People on the Beach, which is held as every year on the beach Playamar in Torremolinos from 9.30 am in the morning. During this festive day there will take place a number of sports activities such as volleyball and beach soccer, rugby, zumba dance, aerobics, bouncy castles, children's playground and many other activities right on the beach to go for a refreshing swim at all times. The activities are suitable for all ages and last until the late afternoon.
---
On June 2 lovers of good wine have an appointment in Ojen, Marbella, at the third edition of Vinojen, a wine fair, which will be attended by more than 40 Spanish wineries. The picturesque village of Ojen, located 9 kilometres north of Marbella in the Sierra Blanca, hosts this new edition of wine meeting which brings together wine experts and general public for different tastings. During this event you can sample more than 170 Spanish wines with denomination of origin.
---
Who wants to find out more about the huge variety of cuisine in the province of Malaga, has a date this weekend in Benalmadena and Arroyo de la Miel. Tivoli World welcomes during May 26 and 27 the first market of Malaga, where visitors can sample and purchase farm products and food from the province of Malaga.
---
Everything you need to know about an event that brings the most prestigious brands in the world together in one place, Puerto Banus. Luxury and exclusivity, top-of-the-line product presentations, all aimed at a very exclusive public. Are you part of this audience or do you want to know more about this event?
---
During this cinematographic exhibition, the best Spanish short films are awarded and people are invited to a series of activities and cultural events in Malaga.
---
Again in November we will be able to enjoy a new musical appointment in Benalmádena with Blues at Moonlight: Rockabilly and American Roots Vintage Festival. Do you want to know everything about this next event?
---