The names of the 3 kings are Melchor, Gaspar and Baltasar. Although we Spaniards are very used to these names, they are not that popular outside Spain.
Shorcuts menu:
While in other countries is Santa Claus the one bringing gifts, here the traditional Three Kings who visit Spain and Malaga every year bring gifts in a special second night, especially for children.
Night of the Three Kings on January the 5th
The Catholic tradition tells that the Three Kings traveled from the East to bring gold, incense and myrrh to the newborn baby Jesus. With time, some symbolic elements have been added to the story as well as the custom of celebrating the arrival of the Three Kings during the day of the Epiphany (January 6).
In the past the Three Kings distributed roles regarding giving out gifts, unfortunately for Balthazar he was in charge of giving coal (the real one, not sweet) stones or wood to children who had not done well during the year. Gaspar gave candy or nuts and Melchior brought clothes and shoes; the gifts of those times were adapted to the needs of the moment.
The Three Kings, as such, are not very widespread and are celebrated only in some Spanish-speaking countries, mainly because of Father Christmas or Santa Claus has prevailed, although both have the same origin, the ancient celebration of the  winter solstice.
There is variety in representing the Three Kings in Europe, in countries such as Italy its 'La Befana', a witch who seeks redemption and is responsible for bringing the good children presents and scare the bad ones.
In other countries like Germany is just a special day for Catholics, unlike in Spain where everyone celebrates. In Germany on that day there are no gifts or family meals; it is a day of charitable action.
Tradition says that the one who decides whether to give coal to the children is the Carbonilla, a page of the Three Kings.
Will they bring lots of charcoal? At Malagaweb.com we expect that you have behaved well and if they bring you charcoal, that is the sweet one you can eat.
The parade in 2019 (Cabalgata de Reyes)
The Three Kings parade in 2019 (Cabalgata de Reyes in Spanish) bring up to 12 tons of sweets which they throw everywhere from the cars. Pasts year the parade was organized in three main blocks: Fantasy, Christmas and Royal Courtship.
Opening cars called Fantasy parade comes with characters of Star Wars and Alice in Wonderland among many others.
The Christmas cars parade comes with the royal pages, a ballet, angels decorated cars and shepherds next to a moving nativity scene.
Finally the Royal Courtship formation with acrobats and the decorated cars of Melchor, Gaspar and Baltasar kings.
Traffic roads will be closed in Malaga centre due to the Parade from 12 at night on January 4 to the ending of the parade on January 5th.
Parade of the Three Kings – January activities
The procession of the Three Kings (Cabalgata de Reyes) is a mainly Spanish tradition. The first parade which is recorded took place in 1876 in Alicante and thanks to its success it was expanding rapidly to other cities. In 1917 was the first Parade in Andalusia and today is a typical established tradition throughout the province.
In the beginning it was a day set for charity and the Parades were responsible for collecting toys for disadvantaged children; after many years this healthy habit was disappearing giving way to the typical candy being thrown from the coaches just before Twelfth Night when children wait for their gifts.
Will it rain the 5th of January?
There is a 5% chance of rain on January 5, this probability will range from 11% in the morning to 7% at night.
It is quite unlikely that it will rain during Three Kings' Night in 2019.
Three kings parade in Malaga: Itineraries in January
Remember in Spanish you can ask about the 'Cabalgata de Reyes in Malaga' if you need orientation.
There are private chairs available for those who want to see the 3 Kings Parade from a comfortable place. Price for chairs rised in 2018 and were as follows:
10€ first row sit
8€ second row sit
6€ third row sit at Paseo del Parque only.
4€ fourth row sit. (new in 2018)
If you want to buy a chair for the Three Kings Parade you can do online (only in Spanish  at http://www.mientrada.net/) or by phone 902 646 289 (902 are high paid number calls, beware).
Beginning of the parade is at 6:00pm from Malaga Town Hall in January the 5th.
Itinerary of the parade
Parade will officially begin at Malaga Town Hall.
Paseo del Parque
Plaza de la Marina
Alameda Principal
Puerta del Mar
Atarazanas
Plaza de Arriola
Pasillo de Santa Isabel
Carreteria
Calle Álamos
Plaza de la Merced
Parade itinerary map in 2019 and parking places
*We don't know what parking places will be closed due traffic interruptions from 12 at night on January 4 to the ending of the parade on January 5th.
Below are some other parades although from past year, they should still have the same itinerary.
Cavalcades and schedules in other places of Málaga
In addition, the different districts of Malaga will have a cavalcade:
Eastern District
4 January at 5.30 pm to 7.30 pm: Cavalcade of kings from the Plaza Virgen Milagrosa.
Complete itinerary: Plaza Virgen Milagrosa, calle Quitapenas, Banda del Mar, Mar, Miguel Moya, Alonso Carrillo de Albornoz, Ortega Munilla and Avenida Pío Baroja before ending at CEIP Valle Inclán where a children's party will take place with snowfall included.
Three Wise Men in Ciudad Jardín
4 January from 12.00 to 3.00 pm and from 4.00 to 6.00 pm: Welcome party for the Three Wise Men in this district of Málaga.
The Three Kings in Bailén Miraflores
December 27th: The royal postman will be at Martínez Maldonado, 58. In the Citizen Resources Center.
December 29th: Royal postman from 10 to 2 pm at the Bailén Market so that the children can send their letters to the Three Kings.
4 January: Parade from 5.30 pm to 8 pm starting at Ibrahim Street.
The complete itinerary is: C/ Ibrahim – C/ Juan Antonio Tercero – Avda. Ntra. Sra. de los Clarines – C/Miraclaveles – Plza. De la Iglesia – Plza. Miraflores – Avda. Miraflores de los Ángeles – Rotonda Suárez – C/ Albacete – C/ Martínez de la Rosa – C/ Barón de Les – C/Cabas Galván – Avda. Ntra. Sra. de los Clarines. Ending at Gibraljaire School.
Parade of Three Kings in Cruz de Humilladero
The parade is on the 4th of January from Calle Fernández Fermina to Conde de Guadalhorce from 5pm to 9pm.
Complete itinerary: C/ Fernández Fermina, Conde de Guadalhorce, Cruz del Humilladero, Camino de San Rafael, C/ Alfambra, C/ La Unión, C/ Antonio Luis Carrión, Paseo de los Tilos, Cruz del Humilladero, Conde de Guadalhorce.
Parade in Churriana
5 January at 5:30 pm from the Municipal Market and ends at 7:30 pm.
Itinerary of the parade: Teresa Blasco, Torremolinos, San Javier, Enrique Van Dulken, Monsálvez, Vega and Plaza de la Inmaculada streets.
At the end there will be a party with hot chocolate where children can greet the Three Kings.
Carretera de Cádiz
January 4 at 10.30 am from Júcar Street although there is no official confirmation this year.
Parade in Campanillas
4th January: Royal Postman in Beltrán Lucena Cultural Centre from 5pm to 7pm. It is time for children to deliver their letters to the Three Kings.
5th of January at 5:30 pm from Francisco Quevedo school and Matisse street.
Parade in Teatinos
3rd January from 5pm to 8pm: Visit of the Royal Page to collect the children's letters.
4th January at 5.30 p.m.: Departure of the parade from the Parque de la Laguna to Calle Juan Francés Bosca, 20.
5th January at 4.30 pm: Parade from Félix Ariza to Calle La Sonata, 2.
6th January from 11 am to 1.30 pm: This day the final parade is in the Barriada Cortijo Alto.
Parade itinerary in Torremolinos
The start of the parade will take place on January 5th in Torremolinos. There will be 10 carriages and 3 royal thrones.
Five tons of sweets will be distributed and the parade will end at 8:00 pm at the Torremolinos Town Hall.
5pm – Parade officially begins in Blas Infante Square.
Avda. Rafael Quintana
C/ Europa
Avda. Isabel Manoja
Avda. Los Manantiales
Plaza Costa del Sol
Avda. Joan Miró
Calle doctor Jiménez Encina
C/García de la Serna
Avda. Rafael Quintana
Ayuntamiento de Torremolinos
Parade itinerary in Benalmádena
Officially there is no information about this year in the calendar, but past years the parades followed the following itineraries and schedules:
4:30 p.m. Official start of the Parade in Benalmádena Pueblo.
Itinerary: Recinto Ferial los Nadales, Calle San Miguel, Avenida del Chorrillo, Avenida Juan Luís Peralta, Calle Jerónimo Garriga, Calle Lomillas, Plaza de España, Calle Real, Avenida Juan Luís Peralta
6.30 p.m. Official start from Arroyo de la Miel
Itinerary: Parking Tívoli World, Avda. de Tívoli, Rotonda Nuevitas, Avda. de la Estación, Avda. de la Constitución, C/ Las Flores, C/ Sierrasol, bajada por Avda. Inmaculada Concepción, Avda. García Lorca, C/ Andalucía, C/ Blas Infante, Avda. de la Estación (End of route).
Parade itinerary in Fuengirola
The arrival of the Three Kings will be in style, no less than by helicopter arriving shortly before the parade at the Elola Social and Sports Complex.
There will be a total of 25 carriages in this year's parade in Fuengirola, which will take place on 4th January alongw the main streets and avenues. Gluten-free jelly beans will be distributed.
Start at 5.40 pm in Calle Mallorca.
Complete itinerary: Mallorca Street, Mijas Avenue, Juan Gómez 'Juanito' Avenue, Camino de Coín, Condes de San Isidro Avenue, Matías Sáenz de Tejada Avenue, Ramón y Cajal Avenue and Boliches Avenue, ending at the monument to the Victims of Terrorism.
*Traffic interruptions are expected in the area of Condes de San Isidro – Santa Amalia Avenue.
Three Kings Parade in Mijas
Although there is still no information regarding the 2019 parade, we can expect that they will follow the schedule and route of past years.
The Three Kings will arrive by helicopter at the Las Lagunas soccer field from where they will begin the parade.
Las Lagunas: From 5:00 pm the parade will leave from the Parque de María Zambrano (lateral calle Velázquez), Miguel Hernández Avenue, Antonio Machado Street, Margarita Avenue, Camino Viejo de Coín, San Cristóbal Street, San Javier Street, La Unión Street, Mijas Avenue, Camino del Albero, Denmark Avenue, Geranio Street and arrival to Andalusia Park.
Mijas Pueblo: At 5:00 pm from the Virgen de la Peña square, Virgen de la Peña avenue, Avenida de la Peña, Avenida de Méjico, Plaza de la Paz, Málaga street, Plaza de la Libertad, Málaga street, Constitución square, Avenida del Compas and finish in Virgen de la Peña square.
La Cala de Mijas: At 5:00 pm from the Cultural Centre of Mijas, Marbella Street, Torreón Street, Torremolinos Street, Bulevar, Marbella Street, Cártama Street and will finish in the Butibamba Park.
Parade itinerary in Marbella
The parade will be made up of 27 carriages that will make the usual route. As a new addition this year there is artificial snow for the enjoyment of children.
The theme of the carriages will be Disney characters, children's theme, Christmas motifs with music and animations.
There are a total of 4 parades that take place on 4 and 5 January in Marbella, San Pedro de Alcántara, Nueva Andalucía and Las Chapas.
5th January
15 carriages on the itinerary of the Three Kings' Parade in Marbella from 6 pm onwards.
Avenida Severo Ochoa (from the Hospital Quirón building)
Avda. Ramón y Cajal
Avda. Ricardo Soriano (until the crossing with Arias Maldonado)
San Pedro de Alcántara
The parade will be on January 5 at 6 pm and will have 12 carriages coming out of the old fairgrounds. The ambience will be complemented by artificial snow thanks to the use of foam cannons.
Complete itinerary: Avenida Pablo Ruiz Picasso, Rotonda Marqués del Duero, Lagasca, Luis Braille, Pepe Osorio, Avenida Oriental, Calle Revilla.
Parade in Nueva Andalucia
5 January at 12.30 pm: There is a parade with 6 carriages starting at the Virgen Madre parish.
Parade in Las Chapas
On the 4th of January 6 carriages will make the usual route from 7pm.
The complete route is: Avenida España, Avenida Valeriano Rodriguez, Calle Joaquín Rodrigo, Avda. Pastoral de Las Chapas, Calle Alcornoque, Avenida Las Cumbres.
Parade itinerary in Nerja
January 3: The Royal Postmen will be at Plaza de España so that the children can deliver their letters.
4th January: The Royal Postmen will visit the Poetas' Neighbourhood and Las Protegidas.
The Three Kings will arrive at Nerja Town Hall on 5 January, starting at the Arcos del Balcón de Europa, passing through the El Salvador church and ending at the Balcón del Ayuntamiento, where they will receive the magic key that opens all the houses in Nerja for delivering the gifts to the children when they sleep.
Three Kings in Maro
In January 4th the Royal Postman will be in the Maro Multipurpose Room at 5pm.
On 6th January the Three Kings will parade at 12.00 through the streets of Maro to the Plaza de la Iglesia.
Parade itinerary in Ronda
On Friday 5 January at 8.00 pm the three kings arrive to Ronda by helicopter, landing in the Ciudad Deportiva.
The schedule and route have not yet been confirmed from the official website of the city council.
Itinerary past year:
Rotonda Abogado de Oficio
Carrera Espinel
Calle Virgen de la Paz
Plaza de la Merced
Roscon de Reyes: History and curiosities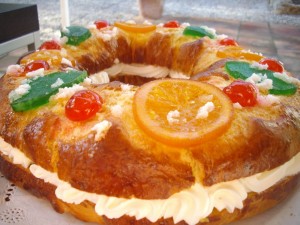 The origin of eating a 'Roscon de Reyes' for Twelfth Night dates back to Roman times; the Romans dedicated festivals to the god Saturn to celebrate the increase in brightness after the winter solstice. During the celebration they baked round cakes of figs, dates and honey which all social classes including slaves used to enjoy.
From the third century was introduced the dry bean into the sweet. Who got it was considered king of kings for a short period of time; this tradition continued in use and there are records of its use during the Middle Ages with small variations.
At present there is usually a treasure and a bean inside each cake being the one who the gets the bean responsible for paying it and the one who gets the treasure is the king of the house for a day.
Travel blogger, web developer and content editor. Author of many of the travel guides and tips available online about Andalucia, Malaga and Spain.
Share this article: