Category: Events
Events and activities in Malaga
The province of Malaga has events and activities that you can enjoy any day or weekend throughout the year.
We usually include organized events. If you like the outdoors you can take a look at our category on routes and excursions.
Let's see some of the most popular events in Malaga:
Activities this weekend and throughout the month
From organic markets in Malaga or flea markets the next weekend. Not forgetting popular fairs and festivities, concerts or live shows. Follow us to keep up to date and join interesting activities on Fridays, Saturdays and Sundays.
Concerts, festivals and shows
Throughout the year and especially during the summer and adjacent months, Malaga organizes a multitude of events and live shows that you can assist.
If you like music and beach you can't miss the Weekend Beach Festival in Torre del Mar, several days of music with numerous artists and even with a camping area. There are others like the Alamos Beach Festival that are also quite popular.
Every year there are  concerts in Sohail Castle of Fuengirola or its surroundings. It is a long-awaited event with world-class guest artists.
Fairs and popular festivals
Malaga is a province with a lot of culture, a past that has had a significant influence on the development of its villages. Throughout the year you will be able to enjoy popular fiestas in the towns of Málaga. It is advisable to know in advance which ones you could visit. A highly recommended event during the month of September is the Luna Mora festival in Guaro.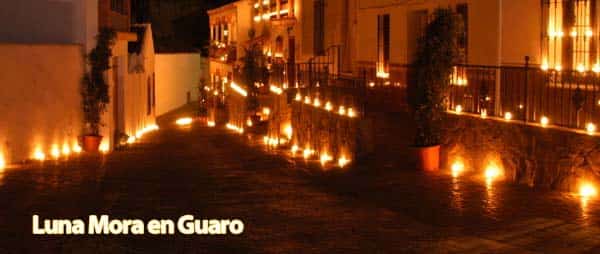 Other events that you can't miss could be Easter or the August Fair in Malaga, a fair with its own personality and in which you will not only have fun but where you can enjoy a rich local cuisine.
The Carnival in Malaga or Halloween are celebrated in a very special way. A multitude of events and activities for all audiences, and we will inform you about everything in our blog.
People's Fair in Fuengirola enjoys a high level of popularity every year. A place where you can not only get to know the culture and taste the local gastronomy, but also from many countries.
If you like to enjoy cultural activities is your day, Malaga celebrates on May 18th the International Museum Day with free entrance. In addition to free admission, activities and guided tours are available free of charge, although inscription may be required for some of them. Want to know more?
---
The extraordinary setting of the Caves of Nerja becomes for another year the host of special summer nights where to enjoy an evening of music and art. The Nerja Caves are not only interesting due to their fantastic rock formations, stalagmites and stalactites. Years ago has been enabled one of the great caves with suitable seating and lighting, creating a fantastic and impressive space dedicated to receive the Festival Cueva de Nerja during the summer months.
---
White Night is a cultural event which was released for the first time in Paris in 2002, because of its success it was quickly adopted by several European cities and later even by other cities worldwide. White Night takes place after sunset and has many different artistic and cultural activities, this free event was celebrated for the first time in Malaga in 2008 feauturing arts, museums, exhibitions, music , guided visits and special activities for individuals or the whole family.
---
From June 6 to 10 we can enjoy extraordinary views in every sense of the word: A night visit to the Alcazaba in Malaga.
---
We are approaching the day when Malaga is invaded by the Star Wars characters. If you're a fan of the popular saga you can't miss this event. There will be also an exhibition. All of this is located next to the Port of Málaga. Want to know more?
---
With the aim of making known the customs, folklore and gastronomy, as well as the culture, history and tourist attractions of the inhabitants of this multicultural city, the Peoples' Fair project was launched in 1994. In recent years it has become one of the most important events, at regional, national and even international level. It takes place in the fairgrounds of Fuengirola and every year many countries participate, offering part of their culture and gastronomy.
---
Los Alamos Beach Festival is back once again this year with important news. Continue reading to know everything about this festival that brings the most representative artists of electronic music.
---
If you don't know what to do on April 27th, you may want to visit the Carihuela in Torremolinos to celebrate the popular Koningsdag or King's Day. Do you want to know more about this popular Dutch party?
---
Any seafood lover has an annual appointment at the Benalmádena Seafood Fair. A place to delight our palatar. Would you like to learn more about this event in Puerto Marina, Benalmádena?
---