Category: Events
Events and activities in Malaga
The province of Malaga has events and activities that you can enjoy any day or weekend throughout the year.
We usually include organized events. If you like the outdoors you can take a look at our category on routes and excursions.
Let's see some of the most popular events in Malaga:
Activities this weekend and throughout the month
From organic markets in Malaga or flea markets the next weekend. Not forgetting popular fairs and festivities, concerts or live shows. Follow us to keep up to date and join interesting activities on Fridays, Saturdays and Sundays.
Concerts, festivals and shows
Throughout the year and especially during the summer and adjacent months, Malaga organizes a multitude of events and live shows that you can assist.
If you like music and beach you can't miss the Weekend Beach Festival in Torre del Mar, several days of music with numerous artists and even with a camping area. There are others like the Alamos Beach Festival that are also quite popular.
Every year there are  concerts in Sohail Castle of Fuengirola or its surroundings. It is a long-awaited event with world-class guest artists.
Fairs and popular festivals
Malaga is a province with a lot of culture, a past that has had a significant influence on the development of its villages. Throughout the year you will be able to enjoy popular fiestas in the towns of Málaga. It is advisable to know in advance which ones you could visit. A highly recommended event during the month of September is the Luna Mora festival in Guaro.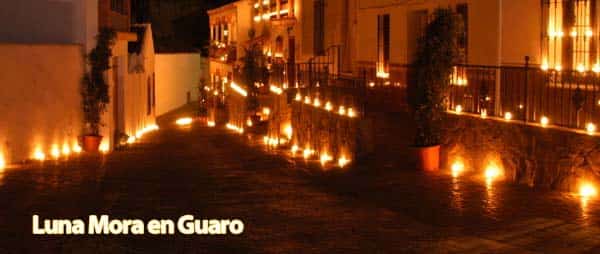 Other events that you can't miss could be Easter or the August Fair in Malaga, a fair with its own personality and in which you will not only have fun but where you can enjoy a rich local cuisine.
The Carnival in Malaga or Halloween are celebrated in a very special way. A multitude of events and activities for all audiences, and we will inform you about everything in our blog.
People's Fair in Fuengirola enjoys a high level of popularity every year. A place where you can not only get to know the culture and taste the local gastronomy, but also from many countries.
Music is the perfect excuse to visit some of the most picturesque villages in Andalucia. The Pueblos Blancos Music Festival arrives in Ronda, Montejaque, Grazalema and Villaluenga del Rosario with international artists. A long and magical weekend that will begin on a Thursday and end on Sunday during the month of September. The perfect opportunity to say goodbye to the summer while enjoying good music and getting to know these beautiful rural environments full of history, culture and surrounded by nature. The stages for the concerts have been carefully selected, continue reading to know more about this annual event.
---
As every year during March comes the celebration of San Patricio in Malaga, an event full of activities. Read everything about San Patricio, its history, which municipalities celebrate it and what activities they propose for this green dyed day.
---
Only a year ago it was relatively difficult to go to a green market, as this meant having to travel within the province, while the larger municipalities along the Costa del Sol lacked this offer. Well, we are pleased to inform you that this has changed, in no time, thanks to the excellent reception of this very healthy proposal and not necessarily more expensive as we tend to believe! Next we leave you the detailed list of ecological markets in the province of Malaga, so that you know when you can buy organic and fresh fruit and vegetables in your neighborhood.
---
The Rockin Race Jamboree celebrates this year a new edition, with many leading figures of the genre, being a must for thousands of lovers of this type of music from around the world. During the event there will also be a retro market of the 50's with vinyl records, clothing and other accessories.
---
This year 2018 is the fifth edition of the Weekend Beach Festival in Torre del Mar. A beach concerts festival that will take place from 4 to 7 July on the shores of Vélez-Málaga. Although there are still a few months left before the start of the festival, the official poster has already been presented with the artists who will have an appointment during the event. Reservations are open for everyone.
---
The procession of the Three Kings is a mainly Spanish tradition. The first parade which is recorded took place in 1876 in Alicante and thanks to its success it was expanding rapidly to other cities. In 1917 took place the first Parade in Andalusia and today is a typical established tradition throughout the province.
---
If you are in Malaga between Wednesday 6th and Friday 10th of December you can't miss the Feria Sabor a Malaga Fair that takes place this year in Paseo del Parque.
---
This year the Christmas lights in Malaga will be switched on the 24th in November, will you miss it? The lighting decoration and switching date change every year, in past events they used up to 600.000 led lights in Larios street, the most centric and popular street in Malaga, nevertheless this city is one of the best places to enjoy the lighting in the world.
---
With a Roman past and with a strong Muslim history that left us monuments like the Alcazaba fortress. Malaga is a beautiful tourist destination during all the year that has ended up being the source of undead infection in 2017. [caption id="attachment_2894" align="aligncenter" width="500"] Last infestation in Spain, it was finally controlled and now they expect it is being propagated in Fuengirola[/caption]
---