Category: Events
Events and activities in Malaga
The province of Malaga has events and activities that you can enjoy any day or weekend throughout the year.
We usually include organized events. If you like the outdoors you can take a look at our category on routes and excursions.
Let's see some of the most popular events in Malaga:
Activities this weekend and throughout the month
From organic markets in Malaga or flea markets the next weekend. Not forgetting popular fairs and festivities, concerts or live shows. Follow us to keep up to date and join interesting activities on Fridays, Saturdays and Sundays.
Concerts, festivals and shows
Throughout the year and especially during the summer and adjacent months, Malaga organizes a multitude of events and live shows that you can assist.
If you like music and beach you can't miss the Weekend Beach Festival in Torre del Mar, several days of music with numerous artists and even with a camping area. There are others like the Alamos Beach Festival that are also quite popular.
Every year there are  concerts in Sohail Castle of Fuengirola or its surroundings. It is a long-awaited event with world-class guest artists.
Fairs and popular festivals
Malaga is a province with a lot of culture, a past that has had a significant influence on the development of its villages. Throughout the year you will be able to enjoy popular fiestas in the towns of Málaga. It is advisable to know in advance which ones you could visit. A highly recommended event during the month of September is the Luna Mora festival in Guaro.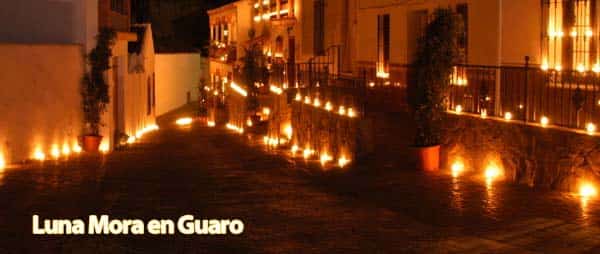 Other events that you can't miss could be Easter or the August Fair in Malaga, a fair with its own personality and in which you will not only have fun but where you can enjoy a rich local cuisine.
The Carnival in Malaga or Halloween are celebrated in a very special way. A multitude of events and activities for all audiences, and we will inform you about everything in our blog.
People's Fair in Fuengirola enjoys a high level of popularity every year. A place where you can not only get to know the culture and taste the local gastronomy, but also from many countries.
Wondering about Christmas activities and attractions in December? I will be updating this list but there are already many things to do in Malaga. From visiting the typical Nativity Scenes to children´s fairs. If you are looking for special Christmas events I will suggest some.
---
The dinosaur exhibition returns to Malaga this winter. If you want to know more about these majestic animals just click on our article or go to the Fairgrounds of Malaga, where it takes place.
---
Children can enjoy as every year with MIMA, a fair of Christmas activities that takes place in the Palace of Fairs and Congresses in Malaga. If you want to know more about this Fair and what it offers you can visit our article where we tell you everything. All these activities sound great.
---
On October 31 arrives the terrifying night of Halloween at our city. Do you have any plan? Malaga is ready and features events in which you can already register. If you have not yet decided what to do, we offer interesting activities for both adults and children. We hope you survive, we wouldn´t want to run out of readers..
---
Schedule, concerts and activities for a long weekend in the popular Fiesta del Aire (Open-Air Festival) in Arriate during the month of October. Want to know more about this popular festival?
---
The Nerja Fair is an important event in the eastern Costa del Sol. If you have extended your summer holidays or planning to visit Nerja in October you may be interested in the festivals and concerts that take place by the beginning of the month. Which day is the cheapest to go to the Fair or when does it start?
---
If you are one of those with interest in history you might find interesting visiting the port of Malaga over the next few days. Visit the full-size replica of the Nao Victoria, a ship captained by Magellan which circumnavigated the world for the first time.
---
The popular Fuengirola Fair begins on the night of October 6th. You can find out all the details about these days, the Fair programme and the live concerts that will take place in the auditorium in 2018 throughout the week.
---
The Perotas Soups Day is one of the events marked in the culinary and cultural calendar of the province of Malaga that you should not miss. It takes place during the first weekend of October and in addition to the typical soup of the municipality there are many activities. Want to know more?
---
The Nights of the Bella Jarifa is a cultural event that takes place in the historic centre of the city of Cartama in late September. It is inspired by the romance between Abundarráez and La Bella Jarifa; its objective is to take you back to a remote past through parades, exhibitions and dances, as well as enjoying a rich gastronomy. All this in a weekend. Want to join?
---