Category: Costa del Sol
Blog of the Costa del Sol
The Costa del Sol is a preferred destination throughout the year, a place to enjoy a good holiday. A destination that offers not only good weather but countless activities for all ages. It is equally recommended if you plan to take a family trip, travel with friends or even alone.
From this blog of the Costa del Sol we will try to inform you about everything that could be of special interest to plan your visit.
Useful Vacation Guide
When we travel, many questions arise, some questions are more important than others but all of them are worth. We'll try to answer them all.
These are just a few of the many questions you might ask yourself before you travel, but there are many more. From our blog we actively respond to them so that you travel with total peace of mind and knowledge of your next destination.
Many of our blog posts could be useful for any destination as we offer general travel tips, others however are more focused on Malaga and Andalusia.
Why is the Costa del Sol so famous?
The Costa del Sol is a destination for everyone, offering endless activities for all ages. The climate is mild throughout the year and has a tourist infrastructure capable of absorbing large numbers of tourists, especially during the summer months.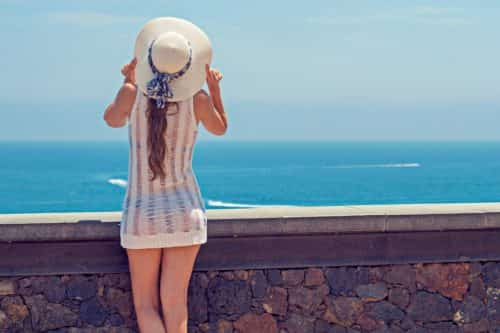 The beaches of the Costa del Sol are very popular for most of the year.
Already in the 1960s, the Costa del Sol was a world reference, a meeting point for great Hollywood artists who chose this place as their holiday destination. Many celebrities ended up acquiring their second home here. Do you want to discover who and why?
Costa del Sol facts
The Costa del Sol comprises the space between the Costa de la Luz in Cadiz and Costa Tropical in Almeria. Originally they were small populations formed by fishing settlements, which gradually evolved in part due to the popularity reached worldwide since the 1960s.
The towns of Torremolinos, Benalmadena, Fuengirola, Mijas, Marbella, San Pedro de Alcántara, Estepona, Manilva, Casares, Rincón de la Victoria, Vélez-Málaga, Torrox, Frigiliana, Nerja and of course the city of Málaga make up the Costa del Sol along the entire Mediterranean coast.
If we had to compare, we could say that the Costa del Sol is equivalent to what California means in the United States, because of its climate, geography and tourist offer.
Would you like to learn more about the Costa del Sol? Continue reading our blog posts.
On the Costa del Sol we are privileged to have ideal locations for Yoga sessions. In addition, every year there is a Yoga Congress in Marbella and a Family Yoga concentration at Plaza de la Merced. If you are interested in more details about Yoga, its objectives and the most practiced styles you may want to take a look at this article.
---
The Enlightenment Stupa is the largest Buddhist temple in Western world. What is a Stupa and what kind of Stupas can we find? Read all about this monument in Benalmadena, next to the Butterfly Park.
---
Discover the best viewpoints in Malaga with our guide and enjoy the breath-taking views of the Costa del Sol and its natural surroundings. Ideal places from where you can take spectacular photographs of Malaga such as those shown here. Would you like to?
---
The arrival of spring brings us an explosion of colours and fragrances accompanied by good weather and activities such as Easter. Do you want to know when this season arrives in Malaga, some healthy rituals that you can do or know a little more about the Spring Equinox?
---
The Cave of Nerja is a recommended visit that will not leave you indifferent. Whoever visits it ends up talking about the great beauty it offers, you can also venture into an underground world that has accompanied humanity since immemorial times. Do you want to know everything about the Cave of Nerja?
---
Discover all the details about the Cueva del Tesoro, also known as Cueva del Higueron or Cueva del Suizo. This cave, which is open all year round, has a good history behind it and a beautiful interior, making it a recommendable visit. Would you like to know more about this place?
---
Discover Selwo Marina in Benalmadena, one of the largest aquariums and theme park where we can learn a little more about nature and the animals that live in different parts of the world.
---
Everything you need to know about adventure sports in Malaga, how much does it cost and where to practice it? Read the different options ranging from parachute jumping, ballooning over Ronda, canyoning on cool routes or rafting with friends among many other activities.
---
Around the year 200, when the Romans dominated Europe, travelling from Londinium (London) to Malaca (Malaga) took approximately 24 days over 3455 kilometres during the month of August. It was a very long journey mostly by sea bordering the coasts of France and Portugal. Want to know more about this adventure and how much did it cost comparing to actual times?
---
Everything you need to know about the leisure and refreshing activities on Malaga's beaches. From renting a hydro-pedal and its price to the always popular jet skis without forgetting other new activities that could be of your interest.
---