Category: Costa del Sol
Blog of the Costa del Sol
The Costa del Sol is a preferred destination throughout the year, a place to enjoy a good holiday. A destination that offers not only good weather but countless activities for all ages. It is equally recommended if you plan to take a family trip, travel with friends or even alone.
From this blog of the Costa del Sol we will try to inform you about everything that could be of special interest to plan your visit.
Useful Vacation Guide
When we travel, many questions arise, some questions are more important than others but all of them are worth. We'll try to answer them all.
These are just a few of the many questions you might ask yourself before you travel, but there are many more. From our blog we actively respond to them so that you travel with total peace of mind and knowledge of your next destination.
Many of our blog posts could be useful for any destination as we offer general travel tips, others however are more focused on Malaga and Andalusia.
Why is the Costa del Sol so famous?
The Costa del Sol is a destination for everyone, offering endless activities for all ages. The climate is mild throughout the year and has a tourist infrastructure capable of absorbing large numbers of tourists, especially during the summer months.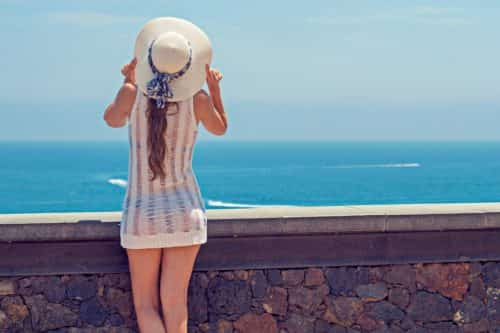 The beaches of the Costa del Sol are very popular for most of the year.
Already in the 1960s, the Costa del Sol was a world reference, a meeting point for great Hollywood artists who chose this place as their holiday destination. Many celebrities ended up acquiring their second home here. Do you want to discover who and why?
Costa del Sol facts
The Costa del Sol comprises the space between the Costa de la Luz in Cadiz and Costa Tropical in Almeria. Originally they were small populations formed by fishing settlements, which gradually evolved in part due to the popularity reached worldwide since the 1960s.
The towns of Torremolinos, Benalmadena, Fuengirola, Mijas, Marbella, San Pedro de Alcántara, Estepona, Manilva, Casares, Rincón de la Victoria, Vélez-Málaga, Torrox, Frigiliana, Nerja and of course the city of Málaga make up the Costa del Sol along the entire Mediterranean coast.
If we had to compare, we could say that the Costa del Sol is equivalent to what California means in the United States, because of its climate, geography and tourist offer.
Would you like to learn more about the Costa del Sol? Continue reading our blog posts.
The sea promenades of Marbella (Málaga) and Puerto Banús are now connected by a wooden footbridge over the Rio Verde.
---
Maybe during your stay in Malaga and the Costa del Sol you would like to do something different and discover the country and interesting places. The andalusian tourist board has prepared several attractive routes you can travel around comfortably by car.
---
Experience using the bus and helpful information on the M-110 bus line linking the centre of Malaga with Torremolinos and Benalmadena.
---
The International Tourism Fair, also known as Fitur, is an important meeting place for the world's main tourist destinations. News and events that may be of interest to potential tourists are announced, and professionals in the sector are also contacted. Would you like to know more about this annual tourism Fair?
---
Tourists consider the Costa del Sol superior to its rivals regarding the ambience, way of living, the people´s hospitality and the climate
---
Malaga is a world tourist power and its economy depends on the number of travelers preferring the Costa del Sol year after year to other destinations. This fact is irrefutable having it at hand and even more significant if you look at it in retrospect.
---
Picassos natal house presents a sensational assortment of Jan Lohns collection whichs art works have been created by the artist between 1945 and 1964.
---