Children and adults can enjoy a fun time on the ice, with a new ice rink installed in Andalusia Avenue, next to the mall El Corte Ingles in Malaga city, offering a new form of entertainment during the Christmas holidays.
The ice rink is 35 meters long by 15 wide and is open during Christmas until January 7. The opening hours are 10 am to 10 pm. It is mandatory to wear gloves.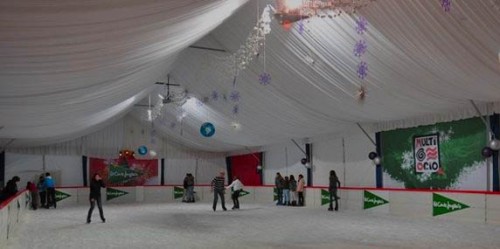 Christmas Village in El Corte Inglés
The Christmas Village attractions are from November 22nd to January 7th, both inclusive, from 10:00 am to 10:00 pm.
Winter attractions:
Carrousel
Snow city
Ice skating rink
Christmas train
Sled / toboggan
Adventure Circuit
Children's waterwheel
The price of the skating rink in previous years has been 6 euros while the price for using the slide has been 3 euros.
Address and how to get there: https://goo.gl/maps/fWWcXeSciE42
Ice skating rink in Benalmadena
Who wants to enjoy a larger ice rink and not only during the Christmas holiday can go to the permanent natural ice rink in Benalmadena.
This 900 square meters ice rink is located in a sports facility, which also has a swimming pool, fitness room and gymnasium, medical center, shops and parking spaces.
To use the ice rink is required to wear gloves, socks and long pants. The skates can be rented for about *4 Euros.
Winter hours are from 11.00 to 2.30 pm and from 4.00 to 10.00 pm, except Saturdays and Sundays which start at 10.00 am. To check the timetable between May and October I recommend visiting the website.
Bank holidays, weekends and the months of December or January:
Children up to 17 years old: 8€.
Adult: €11
Skate rental: €4.20
Between October and May:
Children and adults with skates included: 7.50€.
Address and how to get there: https://goo.gl/maps/AXZjGuPFjxG2
Ice skating rink in Marbella
In 2018, the ice skating rink at the Congress Centre will be active until 7 January.
Price and timetable
Price is 9€ for 45 minutes (5€ for children)
Opening time is from 11am to 11pm.
Address:
Palacio de Congresos de Marbella
Calle José Meliá, 229602
+34 952 82 82 44
Map: https://goo.gl/maps/F5XGtPGCniR2
Travel blogger, web developer and content editor. Author of many of the travel guides and tips available online about Andalucia, Malaga and Spain.
Share this article: